New York–As India's merchandise exports declined for the 16th straight month in March, Finance Minister Arun Jaitley has raised concern over rising protectionism among the rich nations, while describing the global economic situation as "grim and worrisome".
"I can tell you that developing economies being protectionist is much less worrisome than in most developed countries (from where) you hear noises of protectionism," the finance minister said in a talk at the Asia Society here.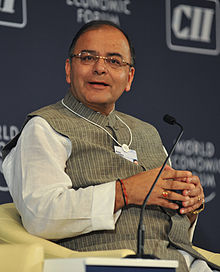 On the global economy, he said there were little signs on how soon the situation will improve.
"If you were to ask me 'How's the global situation', I think it's grim and worrisome. What will be the state of play a year or two years from now? I don't think anybody has been able for sure to hazard even a significant guess," he said.
But amid this, the finance minister felt, countries were making the situation more difficult.
"Each one is trying to put firewalls around their own system — so that within the limitations, how best you can save yourself from slowdown and grow within the limitations that the world has created for you," he said.
At the same time, Jaitley said, India wasn't doing badly in the given global situation. At a time when 1-2 percent growth was considered "good", the Indian economy was expanding at around 7.5 percent.
"I've belief that given the global standards in a slowed environment, India is doing significantly well. But given our own standards and expectations — of being able to grow faster, eradicate poverty and transform into a developed country — we probably can do a little better."
He, nevertheless said merchandise exports from India were suffering due to this slowdown, with official data on Monday showing that such shipments in March were down 5.47 percent in dollar terms, to register a decline for the 16th straight month.
"Yet, with a much larger economy, I think Indian confidence in terms of dealing with the other countries in terms of trade has also significantly increased. The India of 2016 is going to be significantly different from the India of the early 1990s," the finance minister said.
There was no fear either in opening up the economy like the situation was in the 1990s, he said. "We weren't strong enough to trade freely then. Over the last two decades a lot of water has flowed. We have become a large economy, we positively interact with bodies of other nations."