New Delhi– Delivering a warning to tax evaders to come clean on undisclosed income, Prime Minister Narendra Modi on Sunday held out the example of a retired fellow citizen who regularly contributes a part of his modest pension towards the government's social development programmes.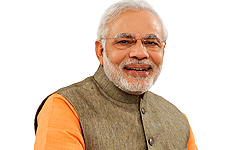 "Particularly for those who have undisclosed income, I would like to present an example," Modi said in his monthly "Mann ki Baat" radio address.
"Whether my words have any effect on tax evaders, the example of Chandrakant Kulkarni, whom I met in the smart cities event in Pune on Saturday will surely influence them," Modi said.
He elaborated how Kulkarni, with a monthly pension of Rs 16,000, contributes Rs 5,000 every month towards the Clean India initiative.