New Delhi– India has sought greater market access for its goods, especially rice and pharmaceutical products, into China in view of its mounting trade deficit which is a cause of growing concern, an official statement said here on Thursday.
"Commerce and Industries Minister Nirmala Sitharaman and Chinese Vice Minister for Ministry of Finance and Commerce Wang Shouwen exchanged notes on trade and commerce and agreed that the mounting bilateral trade deficit has been a cause for concern for India which seeks greater market access for its goods for a long-term sustainable trade relationship," a statement from the Commerce Ministry said.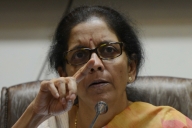 Sitharaman asked for expeditious clearances for import of Indian rice and pharmaceutical products into China — especially those which already have US Food and Drug Administration accreditation.
Expressing concern at the long-drawn procedures for clearances which tend to frustrate the Indian companies seeking business opportunities in China, she asked Wang to consider demonstration of IT/ITeS projects for Indian companies, which have acquired global acclaim.
"Sitharaman requested for 'buying missions' to India to source Indian tobacco and oil meals, amongst other things," the statement said.
The two leaders in consonance with the apex level meetings convened by Prime Minister Narendra Modi and Chinese President Xi Jinping, agreed that measures on providing greater market access for Indian goods and services in China need a demonstrative action, it added.
Wang assured that China would act on the concerns expressed by India regarding market access for Indian goods, and said that recently China has quickened the pace of granting clearances to Indian pharmaceutical companies.
Wang requested the cooperation of India in various multilateral fora where China and India are engaged — the Regional Comprehensive Economic Partnership with services being an integral part of the cooperation agreement. (IANS)